SOUTHLANDS WINE WALK
THURSDAY, JUNE 2nd | 5:00 PM – 8:00 PM
Wine, entertainment, sidewalk sales, and more!
Tickets: $15 in advance | $25 day of
*Must be 21+
*Valid ID required at check-in
Southlands Shopping Center is launching its roster of community-focused summer events starting this month through September. The wide variety of events is meant to appeal to every member of the family.
"At Southlands, we are known as the area's popular gathering space for family-friendly events throughout the year. They are a great complement to the center's vibrant line-up of retail – both national and local, numerous dining options and a wide variety of service-oriented businesses," said Martin Liles, General Manager.
Outlined below are the summer events with corresponding dates:
Farmer's Market: From mid-May through October 1, the Southlands Farmer's Market offers visitors local produce, pastas, baked goods, and more every Saturday from 8 a.m. – 1 p.m. on Town Square.
Summer Concert Series: One of the center's most popular events is Sounds of Southlands Summer Concert Series featuring well-known area bands every Thursday from June 16 – August 4 from 6 p.m.- 8 p.m.
New! Southlands Sunset Markets: At this new summer event held on Wednesdays, shoppers can purchase items from local artisans, crafters and jewelers while enjoying a glass of wine, beer or dine al fresco at one of Town Square's many restaurants. Southlands Sunset Markets start June 15 from 4:30 p.m. – 8:30 p.m.
Just North of Parker you will find a fabulous outdoor shopping experience at Southlands.
Southlands is not only a shopping center but serves as a town center for Aurora with events of all kinds for all ages and interests. From the Sounds of Southlands Concert series in the summer to the many holiday events around the ice skating rink "The Pond" all winter.
Southlands Shopping Center is launching its summer event series including its popular Farmer's Markets and Sound of Southlands concert series, Movies on the Square, and their Annual Wine Walks. Southlands paused or reworked many of its events and is looking forward to the return of community-focused events this summer.
For the comfort of their guests, Southlands will limit seating capacity for concerts and movies and is charging $5 per group per event. All proceeds will be donated to the Cherry Creek School District Foundation and the Aurora Public Schools Foundation.
"Our commitment to the community is one of our pillars here at Southlands," said Martin Liles, General Manager. "As we look forward to the return of in-person events, our commitment to the community is stronger than ever. That is one of the reasons we've partnered with Cherry Creek and Aurora School Foundations for our summer series. Our dedication to helping family and friends create long-lasting memories is a priority, while also serving our community."

Martin Liles, General Manager.
Jill Henden, Executive Director of CCSF said "We are proud to be a community partner of Southlands Shopping Center and because of partnerships, we are able to continue to support K-12 education in our community. These $5 donations add up, and directly impact the next generation of educators and student communities. Our educator initiative grants are crucial to our district's success and are awarded to classroom teachers that use innovative and creative instructional approaches."
Outlined below are the summer events with corresponding dates:
Farmer's Market: Every Saturday until September 25, from 8 a.m.-1 p.m., the Farmer's Market offers guests various products from local artisans along with foods including seasonal produce, western slope fruit, cured meats, homemade pasta, baked goods, and more.
Summer Concert Series: The Sounds of Southlands Summer Concert Series at Town Square features the city's most talented musicians every Thursday from July 8 to Aug. 12, 6 p.m.-8 p.m.. Tickets on sale 10 days before each show. The cost is $5. This donation directly benefits the Cherry Creek School Foundation and Aurora Public Schools Foundation.
Jill Ruiter, Executive Director of the APS Foundation said, "We are grateful to Southlands as a community partner, and plan to use the donations to leverage resources for innovative programs and help students prepare for their future. Community partners like Southlands help us further our mission and our commitment to our students."
Summer Concert Series:
MOVIES ON THE SQUARE at SOUTHLANDS
Movies on the Square: Every Wednesday from July 21-Aug. 11, Southlands will host movie nights for the local community to attend at the Town Square. Each movie requires a $5 donation benefiting APSF and CCSF. The movie nights will offer three family-friendly movies, and one date night movie (PG 13+).
Tickets will go on sale nine (9) days before each movie here.

Southlands Center for Denver Foodies
For Denver Foodies you'll find stores to purchase items to cook, bake, grill and create and a large variety of restaurants to indulge your culinary taste buds.
When you visit the Savory Spice Shop both your taste buds and your ole factory will be wide away when you walk in. The staff there is very helpful and if you let them know what you are looking for or the kinds of foods you like to make, they will direct you to fabulous taste sensations. At their partner store Drizzle 'n' Dip say hello to flavored vinegar and olive oil. Sample your favorite flavors or try some new ones at this store. You can combine oil and vinegar to create your dream salad dressing, meat marinade or bread dip, snag some recipe cards or ask for ideas.
The owners "suffered" in Jamaica for weeks working to perfect their Jamaican Jerk Seasoning and they promised this would bring me back to the islands so I had to have it. Chocolate Dark Balsamic Vinegar? Yes, please! Ideas offered from Denver Foodies and the owners were things like Mascarpone Stuffed Cherries, drizzled on strawberries, over ice cream or cheesecake, (particularly if you boiled it down a little into a syrup) drizzled over grilled Palisade peaches, on spinach strawberry salad or one friend says she thought she would just drink it straight! There are all sorts of gift ideas and packaging too.
For a quick bite check out Tokyo Joe's, Five Guys Burgers and Fries, On The Border, Jim 'N Nick's Bar-B-Q, Phở 97 or McAlister's Deli.
Date Night or Happy Hour is the perfect time to try one of these eateries
We stopped by the Wine Experience Cafe and plan to return to enjoy one (or 2) of the dozens of flights of wine and flights of cheese. Perfect for ladies' night!
Monsoon Indian Restaurant
Mt. Fuji Sushi & Hibachi
Old Chicago
P.F. Chang's China Bistro
Pie Five Pizza CO
Platea Latin Eatery & Cantina
Red Lobster
Ted's Montana Grill
Wine Experience Café
Bar Louie
There are two spots to grab some coffee, the new Legends coffee shop which is a fantastic local spot where they make their own syrups. Order the Lavender Lemonade for a new liquid obsession.
One of the few actual bookstores remaining, Southlands Barnes & Noble store is a fabulous place to not only grab that cup of Starbucks and sit down to rest during your shopping spree, but it also has the largest selection of Adult Coloring Books you'll find in Colorado. If you are an artsy type you will also want to visit Color Me Mine, a create your own pottery shop, or The Paint Cellar where you create one-of-a-kind art.
For local Fashionistas, you have a huge variety of shops to explore for yourself or that special person on your list.
Southlands Women's Clothing Shopping Spots
American Eagle Outfitters
Chico's
Dressbarn
Eddie Bauer
Francesca's Collections
H&M
Lane Bryant
Mainstream Boutique
My Best Friend's Closet
New York & Company
Tillys
Victoria's Secret
White House | Black Market
Clothes for Teens
American Eagle Outfitters
Francesca's Collections
H&M
Hot Topic
Justice
Tillys
Zumiez
For the Guys
American Eagle Outfitters
Eddie Bauer
H&M
Jos. A. Bank Clothiers
Men's Wearhouse
Tillys
For Kids Clothing
Gymboree
H&M
Honeybee Baby Boutique
Justice
My Kid's Closet
The Children's Place
Tillys
There are plenty of places for fast food and for kids to enjoy eating as well including:
Buffalo Wild Wings – Now Open
Bad Daddy's Burger Bar
Chili's
Chipotle
Noodles & Co.
KFC/Long John Silver'sCold Stone Creamery
Del Taco
Fuzziwig's Candy Factory
Qdoba
Village Inn
Subway
Wetzel's Pretzels
Which Wich
If you are looking for something to do, Southlands can help you there too.
The AMC theater at Southlands was the first of its kind in the Southeast end of Denver to have luxurious reclining seats and a full menu plus bar. Simply reserve your seats in advance, no waiting in line no worrying about getting to sit with your group. The only downside is you might take a little nap during the movies because the chairs are so comfortable.
Every Saturday 8-1 you can enjoy the Southlands Farmer's Market. It starts Mother's Day weekend and ends at the end of September each year. The last market in 2017 is September 24th.
Shop more than 40 local vendors in Town Square for organic and pesticide-free produce, fresh dairy products, delicious baked goods, homemade salsa, and tortillas as well as gourmet pasta, fresh seafood, natural soaps, handmade goods and of course at this time of year Palisade peaches (Remember to get that Chocolate Balsamic Vinegar we talked about above)

Trick or Treat Trail on Southlands Main Street

This Halloween event includes Bouncy Castles, Carnival Games, Face Painting, & Balloon Animals and of course CANDY!
* FREE Trick-or-Treat sack when you donate non-perishable food items to benefit SHARE Project (while supplies last)
Christmas Shopping at Southlands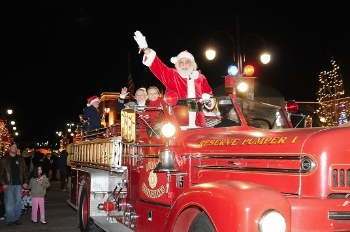 The Winter holidays at Southlands are magical, Saturday, November 19th bring the family and enjoy the Holiday Home Town Parade where the kiddos get to see Santa for the first time followed up by the magnificent tree lighting ceremony. It's just not Christmas until you get to see the giant tree adorned with all blue lights.
One of the best parts about Southlands is the ease of getting in and out of the stores where you need to shop for holiday gifts, unlike the traditional mall experience where you have to park miles away and navigate the crowds at the mall. At Southlands you are surrounded by cheerful decor, lots of great stores both national and locally owned and there are lots of ways to get in and out of the parking lot.
The fun starts over again in the Spring with Easter Events for everyone!
Southlands Shopping Center is located at the Corner of Smoky Hill Road and Main St just East of 470.